See on Scoop.it – Educational Gaming and Simulation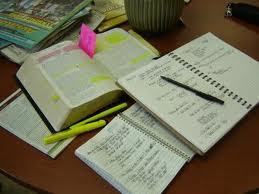 Early each college semester, your professors will tell you if a term paper is due at the end of that semester. Yes, "term" is a good name for this all-important research paper as you will be given nearly the entire semester to get it researched, written up and submitted by its due date. By following a careful "system" for writing your term paper, you can ensure that it will receive the best possible grade, aiding your overall grade as well.
1. Pick your subject. Write about a topic that you're comfortable covering. And, what interests you. You'll be spending several months with this subject and it should be a one that you can live with.
2. Inform your professor. If required, tell your professor what your subject is about. Get his or her approval before moving forward.
3. Assemble your research. Use the kind of sources your professor requires including books, magazines, newspapers and other periodicals. Follow the prescribed citation outline for each source.
4. Review your notes. Examine your notes to confirm that you have enough material to build a strong term paper. If not, conduct additional research until you do.
5. Craft your outline. Build an outline of your paper, using a traditional format with divisions and designations to follow each point. Your outline will help you organize your paper to ensure that each essential point has been thoroughly covered.
6. Write a draft copy. Using your outline, flesh out your term paper to explain to your reader what you are going to say. In the body of the paper, make each point and offer supporting evidence. Succinctly summarize what you said.
7. Edit your work. Your first draft may look like a disaster, but it will serve as a springboard to your best paper. Allow your first draft to marinate for a few days before looking at it again with fresh eyes. Reading it aloud will help you find mistakes and allow you to polish it to perfection.
8. Write your final copy. With all corrections handled, write up a final copy. At this point, you have handled sentence structure problems, amended grammatical errors and fixed misspellings. You're writing in the prescribed style, using APA or MLA per your professor's instructions. You've also used footnotes, end notes and resources as required, and have explained related forms, graphs and pictures.
9. Submit your paper on time. It goes without saying that your term paper must arrive by the prescribed due date. Follow your professor's submission instructions precisely.
See on www.saycampuslife.com