See on Scoop.it – Metaglossia: The Translation World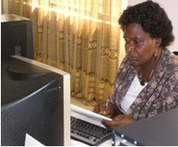 The department of Kiswahili and other African Languages (KOAL) of Maseno University offers a Bachelor of Arts programme with Information Technology (IT), and postgraduate programmes in Master of Arts and Doctor of Philosophy in language, linguistics and literature in Kiswahili and other African languages. The department stands as a centre of excellence in training Kiswahili and other African languages, promoting cultural diversity and advancing external relationships with other partners. KOAL services students from the faculty of education and the department of communication and media technology. Plans to offer Kiswahili as a core subject in the university curriculum are in progress.
As Kiswahili continues to gain prominence both as a national and official language in Kenya, a lingua franca of the East Africa Community states, proposed as one of the official languages of the African Union and taught at various universities globally, the department is already undertaking the initiative of establishing viable programmes so as to produce graduates of Kiswahili who can meet the envisaged demand in future. Thus the department is in the process of reviewing its programs in order to conform to socio-economic and political changes and transformations worldwide. The review is taking into account the dynamics in higher education, Kenyan constitution and Kenya Vision 2030.
The department also plans to introduce new market driven programmes such as: Translation and Interpretation, Editorial and Publishing, and a full programme of the African languages. Maseno University strategically positioned on the trans-border high way, is a converging point of African languages and cultures taking into cognisance the spread of community identities across nations and regions. The African language programme that is under review intends to attract students, scholars, researchers and artists across regions. The Kenyan dream of being an industrialized state will be achieved through absorption of expertise, professionals and consultants in translation, publishing and editorial firms, media houses and non-governmental organizations.
Both Master of Arts (MA) and Doctor of Philosophy (Ph.D) in Kiswahili Studies seek to strengthen the knowledge base of Kiswahili scholars, enabling them to undertake critical analysis of important language, linguistics and literary issues, to conduct and co-ordinate multidisciplinary research, and to disseminate information and data for sustainable use of the language. The knowledge gained by those specializing in Kiswahili Studies will enable adequate analysis, translation, research, teaching and examination of the language leading to effective revitalization and restoration of African languages, and Kiswahili as a national, regional and international language.
See on maseno.ac.ke